About Allegro project
Allegro is a part of the Halieutic Information System (SIH), developed by Ifremer.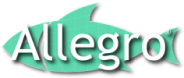 Allegro aims to manage and collect halieutic raw data.
Features
With Allegro, you we be able to :
Manage all kind of halieutic data. Supported raw data are :

Declarative data (development not started) :

Log book (trip, operation, transshipment, catch and discard, effort),
Landing,
Sale

Survey data :

Observed fishing trip (trip, operation, catch and discard, effort),
Gear physical features survey,
Survey at landing (development in progress),
Daily activity calendar (practiced metier by day) for artisanal fisheries,
Monthly activity calendar (practiced metier by month),
Monthly effort calendar (gear use features by month),
Economical survey (development not started),

Scientific survey for stock assessment (on research vessel),
Biological sampling (during fishing trip, at landing, in sale room...).

Fill raw data, in user-friendly forms.
Export raw data (PDF or plain text).
Manage your data collecting network : user, referential data, data collecting strategy...
Work in two modes :

Standalone mode : to use at home, on board, without an Internet connection...
Client/server mode : need the Allegro-Server part and a Internet connection.

Both modes could be used : synchronize your data with a Internet connection, then use in standalone mode on board (with TablePC) !
Check requirements for Allegro installation requirements.
Downloads
The following files can be downloaded :
For Windows, get the lastest version here.
Documentation
The following documentation is available :
Main components
Allegro is divided into two main components :
Client part :

A desktop application (Java rich client),
An embedded database (DBMS), for standalone use.

Server part :

An application server (JEE application),
A relational database (RDBMS), with GIS capabilities.
Have a look at the architecture presentation.